Kate – I've played a couple times with Jen and it was so great to hear her perform at IWBC this year. I really enjoyed reading her responses to our questions and I am so excited to share her thoughts here with the Brass Chicks community!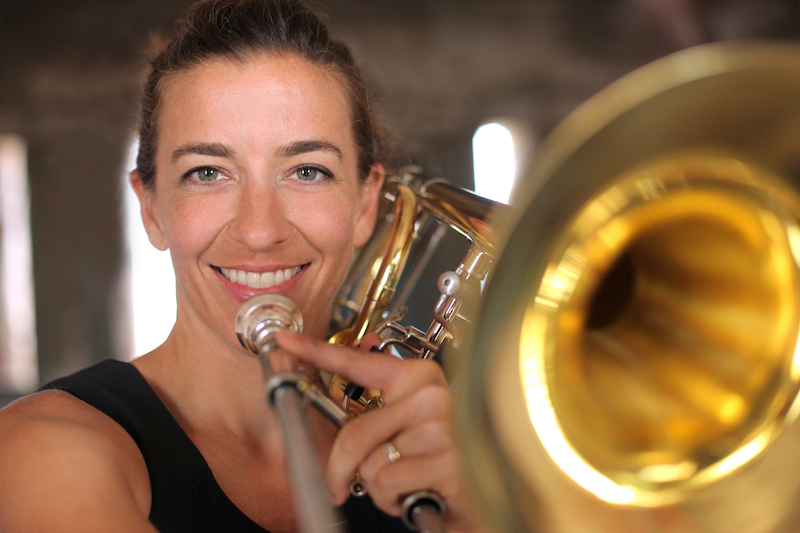 Jennifer Wharton is a low brass specialist based in New York City. Though getting her start classically, Jen has deep roots in jazz, commercial, chamber and Broadway music. Like a virus, she won't stop until she has conquered the world. 
Currently, Jennifer can be found performing in Beautiful: The Carole King Musical but has also held positions at The Gershwin's Porgy and Bess, Jekyll and Hyde, Scandalous, Wonderland, 9 to 5 and Curtains, as well as performing as a substitute in over a dozen other Broadway productions. 
Jen is a member of two Grammy-nominated ensembles, Darcy James Argue's Secret Society and Alan Ferber Extended Ensemble. She has also performed on several Grammy-nominated Broadway cast albums as well as the Grammy-winning recording of Beautiful, The Carole King Musical.  
She has performed and/or recorded with ensembles including the Vanguard Jazz Orchestra, Ken Peplowski Big Band, Kingdom Hearts Orchestra, Ayn Inserto Jazz Orchestra, John Yao and His 17 Piece Instrument, Miggy Augmented Jazz Orchestra, Walking Distance, South Florida Jazz Orchestra, DIVA Jazz Orchestra, and the BMI Jazz Composers' Workshop. 
Jennifer is an XO Professional Brass artist and plays the 1240-LT bass trombone. She teaches bass trombone at Montclair State University in New Jersey. 

Want to find out more?
Mini Interview:
1. Tell us a little about yourself and what you do!
Outside of music, I've done about a dozen triathlons including 2 full Ironman triathlons. I'm an amateur baker and I have a dog obsession. I'm married to an amazing jazz trombonist, John Fedchock, and we've got two doggies, Mister and Dudley. 
2. Is there anything you wished you had known as a student or young professional that you know now? Any advice that you'd like to share with younger musicians?
Do what scares you most. Always. Even if you fail. If I hadn't followed this advice, I'd be working for Bank of America right now. If you go in with the mindset of "I know it won't be perfect," you allow yourself to try. I'm putting this concept to work this month by doing my first gig as a leader – something that I was scared  about for years. 
3.  Any resources you recommend? Books, podcasts, recordings that changed your life etc.
As a brass player, male or female, read the full story of what Abbie Conant went through  with the Munich Philharmonic. It is heart wrenching and horrible but she not only survived it, she thrived. Her story showed me that the best revenge is success. 
When I was in college, I relied heavily on Doug Yeo's website. There is a lot of invaluable information on there and I still refer to it when I'm teaching. 
4. Lasting thoughts / tips / ideas / comments?

Always be cool. There are too many great players to put up with someone who isn't cool. Don't be that person.